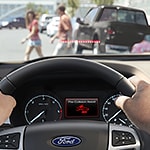 Are you seeking a midsize truck that is durable enough to drive on adventures and stylish enough to proudly drive throughout Corvallis? The new Ford Ranger happens to be a vehicle that addresses both of these areas remarkably well. In addition to the Ranger's capability and performance, what can you expect regarding its appearance?
The Ranger's unique crafted grille is quite wide and its equally bold twin-power dome hood will wow Ford shoppers with its aesthetics. The capability-oriented high ground clearance is accompanied by rounded wheel arches, which make the Ford Ranger even more eye-catching.
If you really want to maximize the visual appeal of your Ford Ranger, however, than Wilson Motors suggests considering either the Tremor Off-Road Package or one of the multiple Appearance Packages. These can offer you features like Ebony Black Miko Suede Inserts, wide lip moldings, gorgeous badging, Carbon Black bumpers and more.