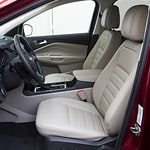 If you're looking for a vehicle that leaves nothing to be desired when it comes to modern automotive technology, the Ford Escape is right up your alley. The newest generation of this popular crossover line is on the lot at Wilson Motors right now, so stop by and take one out for a road test at your convenience.
The Escape is equipped with features that prepare it to work as hard as you do. A specially designed app will allow your Escape to safely and securely accept Amazon Prime package deliveries on your behalf, and the onboard connectivity systems mean that you're never too far away to handle important business or family matters via safe, voice-activated controls.
The Escape boasts a full complement of amenities that provide extra protection while traveling on the highway, in town and in reverse. Access to the Waze system also furnishes important traffic and navigation information that you need know.